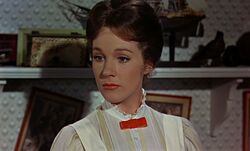 Mary Poppins is the nanny of Jane, Michael Banks, and the twins, John and Barbara. In the later books she is also responsible for Annabel. She has dark hair, blue eyes, and a turned-up nose, and is frequently described as looking just like a china doll. She arrives at the Banks' house on the West Wind and leaves on the East Wind.
Her possessions include an umbrella with a parrot's head handle, which she uses to travel on the winds. She carries a carpet-bag which has both her clothes and toiletries as well as such unusual items as a cot bed and a lamp.
Mary Poppins always sees Bert on her day out. Although she never mentions any immediate family members (sister, brother or parents), she does have a variety of cousins, aunts and uncles to whom she introduces her young charges.
Mary Poppins Returns
Edit